Need some extra help to get out of the habit of putting yourself on the bottom of your to-do list? Believe me. I get it. Prioritizing your health in the day-to-day busyness of life can be really difficult.
But it doesn't have to be!
If you're looking for some help with prioritizing your health so you can live a happier, healthier, more joy-filled life, I highly recommend checking out Crystal Paine's new course, 15 Days to a Healthier You.  If you know me, you know I am a big fan of Crystal and her blog, Money Saving Mom. I bought several of her books and products and I went through the original version of this course at the beginning of the year. The course was amazing and made a huge difference for me and that is why I am sharing this course with you even though the focus of Simple Catholic Living isn't heath. (Athough, being Catholic does, and should, affect all aspects of our lives, so it is technically related. LOL!)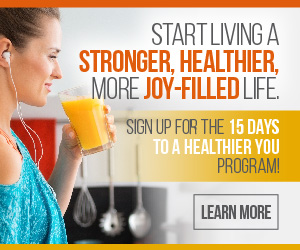 In this course, Crystal shares all of her proven strategies that have helped her rebuild her own health! After making some life-altering changes in her self-care regimen, Crystal found herself recharged and refueled in a way she never thought possible.
And because these changes made such an enormous impact on her personal life, she decided to compile all of her tips and strategies into a full-length 15-day course to help those of us who want to overhaul our health and grab ahold of that vibrant, healthy life we're all dreaming of.
When you purchase this 15-day course, you'll get immediate access to …
15 daily videos lessons — one for each day of the course.
Daily projects to help you on your own journey to live a healthier life.
Some of her favorite recommended resources (links, books, podcasts) to go along with each day's lesson.
A PDF workbook including the entire course lessons that you can download and print.
Access to the 15 Days to a Healthier You Facebook group!
BONUS access to the original 15 Days to a Healthier You video series!
Get the help you need to live a stronger, healthier, more joy-filled life today by signing up for 15 Days to a Healthier You today! And guess what?
To kick off the launch of the program, FOR TODAY ONLY (Wednesday, November 8)Â  Crystal is offering the program for only $5 (that's $0.33 per day!). Tomorrow (Thursday, November 9) the price goes up to $10 (that's $0.67 per day). Finally, on Friday, November 10, the price goes to it's regular price, $15. That's only $1.00 a day which is still a great deal but why pay full price when you can pay only $5 buck? Personally, I loved the original version of the course and I am purchasing this version as well!
Sign up here —> https://products.crystalpaine.com/15dhy/ref/120/?campaign=HealthierYou
Here's to your health!