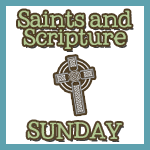 (A big thanks to @DiannaKennedy at The Kennedy Adventures for inviting me to participate in her Saints and Scripture Meme!)
I love this Sunday's Mass readings. They gives me such hope!  Luke, chapter 11, particularly resonates with me. Who doesn't know and love these verses?:
"Ask and you will receive; seek and you will find; knock and the door will be opened to you. For everyone who asks, receives; and the one who seeks finds; and to the one who knocks the door will be opened." Luke 11:9-10
God always answers our prayers. His timing is not always our timing and the prayers may not be answered the way we expect; but, in His goodness and love, He always hears us. Sometimes it's "yes". Sometimes it's "no" (because what He has in store for you is better!). Sometimes it's "wait". But, He always answers. 🙂
We have only to make ourselves available to the Lord, to persevere on prayer, and to be open to hearing His voice.