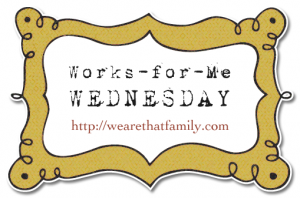 A long time ago, I found the following homemade Windex® recipe on a blog that is now defunct. It works very well and  more frugal than paying full price for the original! Not only that, it also makes the house smell so good with the essential oil added.

Homemade Window Cleaner
1 Spray Bottle
Rubbing Alcohol
Water
Essential oil, such as Eucalyptus or Rosemary oil
Fill the spray bottle half full with water and half full of the rubbing alcohol. Add 10-12 drops of the essential oil of your choice. Mix gently.  Now you can clean your mirrors and windows per usual!
And that's it for this week's Works for me Wednesday. 😉