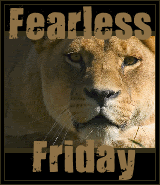 Fearless Friday is hosted by Free Spirit Haven who has committed herself to pray for the needs of others. I am so touched by this and want to add my prayers with hers.
In particular, I am praying today for all those who are unemployed. My husband has been out of work for a while now, so we can absolutely relate with those who are in the same boat as us. He has put in so many applications and went to so many interviews and at times he gets discouraged, but still carries on.
So today, I ask for prayers for my husband that he gets a good job soon and I commit to praying for the thousands of others looking for work as well.
God bless!