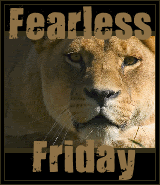 "I will give thanks to the Lord with my whole heart; I will recount all of your wonderful deeds." Psalm 9:1
"Enter his gates with thanksgiving, and his courts with praise! Give thanks to him; bless his name!" Psalm 100:4
The Psalms are a wealth of inspiration for thanking and praising the Lord, aren't they? 🙂
For today's Fearless Friday I am offering prayers of thanksgiving. Prayers in gratitude for answered prayers and graces received.
You may recall that in last week's Fearless Friday I prayed for those unemployed – including my husband who has been unemployed for many months. Well, he was offered the job he interviewed for this past Tuesday! He starts next Wednesday, so until he is actually working and gets his first paycheck, we are being cautious in our celebration; however, we are delighted and so grateful for this opportunity.
I have to tell on myself, though. As I was offering a prayer of thanksgiving, I realized that I don't thank God as I should. Not even close to thanking Him enough. So often I am like those 9 out of the 10 lepers who were healed by Jesus and ran off to show themselves to the Pharisees and Scribes without any thought to giving thanks. How many ways does the Lord bless me each day that I don't even realize or thank Him for?
In that vein, would you pray in thanksgiving with me?*
We praise and thank you, Lord for the countless blessings you bestow on us each day! Thank You for the new job Michael will be starting. Bless him and help him to do his work faithfully and well. We pray also Lord, for those still out of work. I know You will find work for them soon.

We thank You for the gift of faith. Thank You for opening our eyes to Your love and mercy. Open the hearts of all our family and friends and everyone else who do not know You or do  not love You. May their hearts be converted to Your loving ways.

We thank You Lord for all the joys, sufferings, hopes, failings and mundane activities of our day. We know that with You all the little and mundane activities of our day is elevated, transformed and made holy in Your sight.

And most importantly, Lord Jesus, we praise and thank you for lowering yourself into becoming like us, for working Your miracles upon the earth and proclaiming the Good News. We praise and thank you for suffering and dying a wretched death on the cross for us and for gloriously rising from the dead. We know that You are the mighty Victor, the one who is to come again! We praise You, we thank You, we glorify Your name!

We thank You for sending the Holy Spirit and remain present with us through Holy Mother Church and the sacramental life. We thank You for Your real presence in the Eucharist. We thank You for continuing to work in us and through us. We thank You for continuing to work miracles in our lives, whether we realize them or  not! We give you thanks, Jesus, for all things. Amen
What are you thankful for this week? What are your intentions this week? Leave your intention in the comments or better yet, head over to Free Spirit Haven and add your prayers. 🙂
(*I just made the prayer up from my heart, so please forgive any errors or omissions or faults the prayer has.)