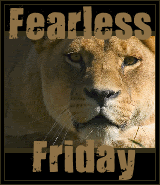 It seems like every time I turn around lately somebody I know and love (or know of) has been recently diagnosed with some form of cancer: lung cancer, colon cancer, throat cancer.
So, I am dedicating today to pray for those with cancer, for their families and caretakers. I pray that the Lord heals them if it be His will, or comfort and strength as they deal with their disease.
Prayer to St. Anthony for Those Suffering with Cancer

Dear St. Anthony, you recognized Our Lord Jesus as the Divine Healer. In your goodness and kindness, please intercede for all those who are suffering from cancer.

If it is God's will, I ask that this day, the gift of healing be granted to them. Comfort them during times of unbearable pain, and ask our Lord to grant them peace and patience in suffering.

May God give them the fullness of life here on earth, or call them home to eternal glory forever. Amen.
(H/T to saintfrancis.net, where I found this prayer.)
Come join us every week for Fearless Friday where we commit to praying for one another!)