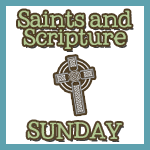 (Come join us over at The Kennedy Adventures! for more Saints and Scripture Sunday entries.)
"For where your treasure is, there also will your heart be." Luke 12:34
I was challenged by these words today. I felt personally asked, "Where does your heart lie?" Truth be told, it hasn't been lying where it should be.
Why is it so easy to get caught up in all the busyness and craziness of everyday life? Why is it that our relationship with God is always the first to go by the wayside? (For me, at least.) Even when I make time for prayer, it is often distracted and rushed through, just to get done.
What I want is a deep, meaningful relationship with the Lord. This is only possible if I take the time for deep meaningful conversations with Him. I have follow my own suggestions for taking time for prayer, to listen to Him, and to let the Holy Spirit guide me.
That's my resolution for this week. To focus on deepening my relationship with the Lord. To make the time to pray and focus my heart on the Lord.